GULF SHORES – ORANGE BEACH
Every month I will bring you my breakdown of the real estate market in Gulf Shores and Orange Beach.  We'll look at key metrics and follow the trends. 
If you are looking for a family home, a second home on the beach and an investment opportunity,  I'm here to help you zero in on the perfect property.
Sellers, this is your time.  Let's take a deep look at your specific property and develop a plan for you to benefit in this market.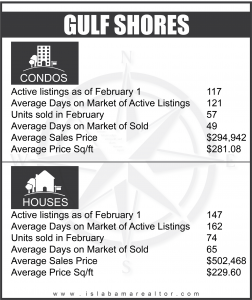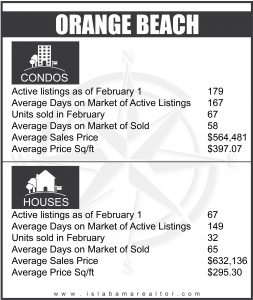 HIGHLIGHTS:
 Despite the tight inventory, in Gulf Shores house units sold 90% more units and condo  units sold was 21% higher. Demand is high.  

Gulf Shores condo sales price and $ Sq/ft appear to have slipped a little on paper. A deeper look shows this decline is due to a higher percent of the condos being sold being off island condos.   Beach area condo prices are still climbing. 

Inventories in all areas remain low, 2-3 months. 

Orange Beach condo price sq/ft continue their upward trend,  + 9% YOY